Oak Class News
Hello and welcome to Oak class news page. We are always busy, active and learning. Have a look below to see some of the things we get up to.
26.11.2021
Oak have had a super week! We have been rehearsing for the nativity and they all had their first go at being on stage today! We have been busy learning the digraphs 'sh' and 'th' and spotting them in words and pictures. We have been learning about subtraction being taking things away and seeing how many are left and linking this learning to number sentences. We have also had lots of fun with the throwing and catching equipment (balls, quoits and bean bags) and developing our skills in these areas.
19.11.2021
Oak class have had a great week. We have been learning to use our balancing skills with different parts of our bodies, developing our coordination and core strength. In maths we have been exploring our 2D and 3D shapes. We have done lots of shape investigations and really enjoyed our shape walks around the school. We have been looking at people who help us and enjoying becoming these people in role play. Well done Oak.
12.11.2021
This week we have been thinking about people who help us, for example, vets, doctors, firefighters and police. We came up with scenarios of when we might need help from those adults. We have also been learning our 3D shapes, cylinder, sphere, cube and cone. Please help your child/ren to spot these shapes at home and if you have any empty packaging which represents those shapes that could be brought into school next week to be shared, that would be brilliant.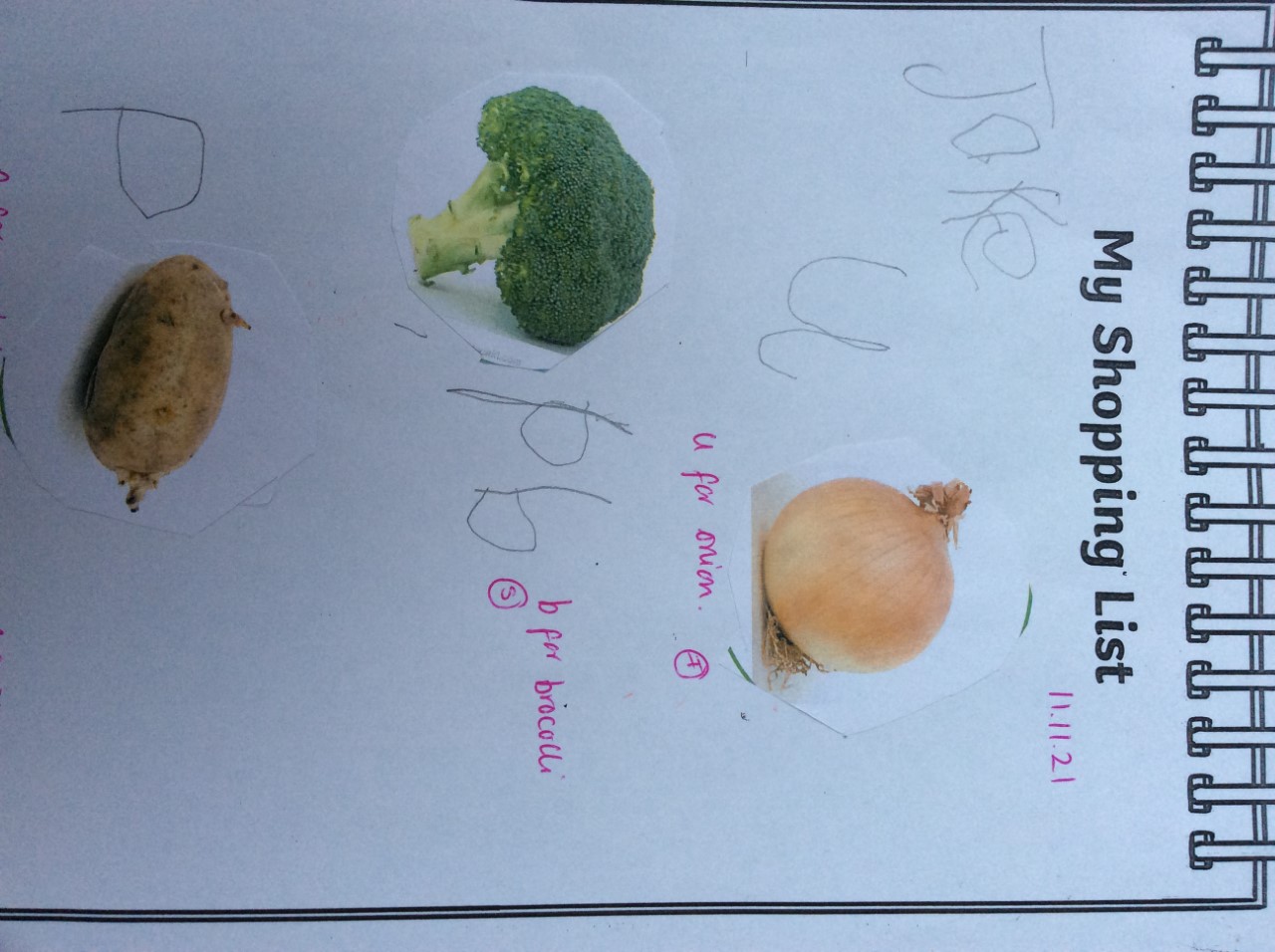 05.11.2021
Oak have been exploring pattern in the environment, we have been looking carefully at leaf shapes and colours. We made repeating patterns with colours and shapes -you could try this at home it was great fun. Some children went on to make leaf people and were very creative. We have been using our pen disco to help us with our pen control and writing our letters and sounds on the white boards.
22.10.2021
Firstly, we have to say a massive well done to all the children in Oak class for getting through their first half term of 'big school'. They have learnt so much already, not just all those numbers and sounds but: names of new friends, how to share resources, how to line up for lunch, to wait their turn, to tidy up, to listen to each other and to be responsible for their belongings to name just a few! Rest up this half term and recharge those batteries because when we come back we will be mentioning the 'C' word (Christmas for those unsure) and we have so much exciting new learning to do too!
15.10.2021
This week in Oak we have been working on our team building skills, sharing and working together to create amazing structures. Some children made their own treasure maps and others helped them dig for treasure in the digging area. We have had a pen disco which helps our fine motor skills and opened bean pods together. We have done lots of counting to 10 and are starting to look at the composition of number. Well done Oak for all your hard work this week.
08.10.2021
What a fantastic way to end another awesome week - I'm sure you will agree, that Oak class sang beautifully in the Harvest celebration this morning. Well done! We have been busy in class too, learning the sounds, m, d, g, o and u and the numbers 6, 7, 8, 9 and 10! Some of us can order the numbers too! We are getting so clever! It would be great if they could spot any of those sounds or numbers when at home or out and about.
01.10.2021
A second full week for the children in Oak class and my goodness they are all really embracing school life! We have learnt the next set of sounds, c, k, ck, e and h and can spot things in our environment that begin with those sounds. We have learnt the numbers 5, 6 and 7, practiced writing them and are beginning to count out objects with one to one correspondence! We have made leaf pictures with the fallen leaves and observed the changing of the seasons to autumn. We are also busy getting ready for next weeks harvest celebration and look forward to seeing as many of you as possible in church.
24.09.2021
Oak class have been exploring all of our outdoor learning areas and have been involved in some fantastic outdoor challenges. Every child has initiated some of their own learning which has been a pleasure to see, then we can help them along in their understanding. We are learning to be a great team in Oak and play and learn together cooperatively. Please can you return any toys that may have inadvertently made their way home. Thanks everyone.
17.09.2021
Oak Class have been exploring outside, we have enjoyed using the bikes, the apps and the sand area. We are becoming more confident with our lovely environment and learning to use it appropriately. We are enjoying getting to know each other and learning about other members of our class. We have started to stay all day this week and are having fun together.
01.09.2021
Oak class have made a great start to school taking it all in their stride, so well done. They have been learning new routines and been settling into our Micheldever family. We are learning all about each other and the things we like and don't like. Each child is unique and wonderfully made, it's been a pleasure getting to know them all a little better.
23.07.2021
Another big well done to Pine! This has not been an easy week, switching back to online learning, but once again the children have done so with resilience and focus. We are all very proud of you Pine! It was wonderful welcoming parents to our exhibition this week and having the chance to show off all the brilliant work Pine have done this term. What a lovely way to end the term! At home, the children have been writing exciting meerkat stories and finding shapes in nature. Pine have really shown their best this week! Have a wonderful summer break, it is definitely well deserved!
16.07.2021
What a lovely week we have had in Oak, these are some pictures of us on Friday last week in our bright clothing. We have had another busy week writing letters and cards to our friends with positive affirmations. In Maths we have been looking at repeating patterns in both colours and shapes. In Science we have been looking at comparing and contrasting habitats for animals and mini beasts and have been exploring classifications of them- particularly insects. We have been very creative and made some huge butterflies ?? that you will be able to see at our exhibition next week. We are looking forward to sharing our work with you.
09.07.2021
This week in Oak we have been looking at celebrations, particularly Christenings and Baptism. The children can explain the service and talk about the symbolism of being washed clean ready to meet God. They have all acted out their own Baptismal services and if you have any Christening pictures we would love to share and talk about them next week
02.07.2021
Oak have had such a fun week. The obvious highlight was the trip to Marwell on Tuesday which they all enjoyed so much, particularly the hippo! We have also been painting, writing sentences and in PE this week we have been practising for Sports Day which we are so excited for. We have been doing lots of art; today we made masks!
25.06.2021
In Oak this week we have been exploring different genres of music and looking at different ways of moving our bodies. We have been thinking about how the music makes us feel and what part of our bodies we want to respond to the music with. We have also had a wonderful week writing our own versions of the story 'The Three Billy Goats Gruff' and have written some superb piece of work.
18.06.2021
Oak have been working very hard on their writing. I am very proud of them. We have been looking at letter formation, finger spaces, capital letters and full stops. Please take a look at the pictures of independent writing which the children did during child initiated learning .
11.06.2021
Oak have made some new fairy friends and are enjoying finding out all about them. In Art we have been looking at swirls in nature and creating our own swirls with our bodies, paints and natural objects. We have planted our sweet pea "teepee" which we are excited to watch grow and also our sunflowers have started to sprout so we are going to have great fun measuring and recoding their growth over the next few weeks
28.05.2021
Oak had an amazing class trip this week; we practiced our observational drawing skills and did a mini beast hunt. We even found a magic fairy we named Smiling Sunflower who is going to come back to school with us. In the afternoon we did some fabulous pond dipping and found lots of different creatures in the water. We had boat races using the rafts we had made at school. The best bit however was the fabulous tractor ride around the Farm. Thank you Mr Foot for a day we will never forget.
21.05.21
Oak have been preparing our sweet pea plants and sunflowers so we can watch them grow and measure them. To help us prepare we have been ordering, measuring and using rulers around the classroom and outside. We have been working hard on our guided reading in groups and our independent tasks to help us think about our transition to year 1 and beyond. Well done Oak, we are looking forward to our trip next week if the weather holds.
14.05.2021
Oak class have been exploring and estimating weight and looking at the maths vocabulary involved. They have worked out that size is not important in relation to weight but often what the material is made of matters more. Metal things seem to be generally heavier. See the pictures later of some children exploring our moon rocks, a challenge where they couldn't see the objects so had to estimate by feel before putting them on the scales.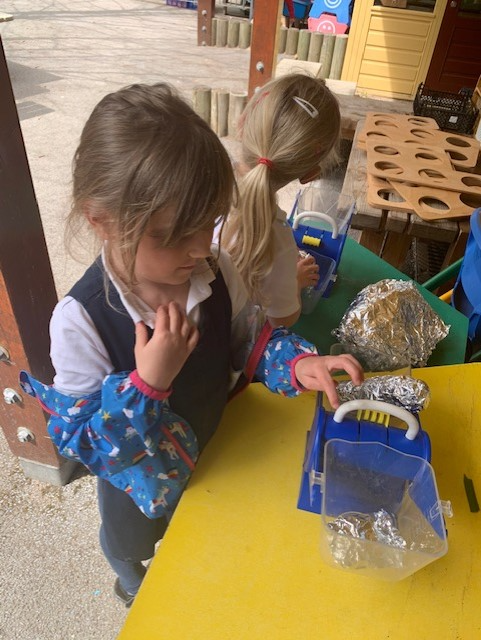 07.05.2021
The children in Oak have had a wonderful week exploring capacity. We have been estimating and measuring amounts of water in different containers and have even made our own concoctions and secret potions. We have been working hard at our writing and are really getting the hang of sentences now. We have been enjoying our outdoor learning zones and the sand area that has been updated with new and interesting interactive challenges. Another great week. Well done Oak.
30.04.2021
In Oak this week we have been exploring our environment and investigating plants and animals in our outdoor learning area. We found a variety of mini beasts and are looking carefully at their habitats. In maths we have been learning to tell the time and the children are really good at using the clocks they have made, I hope they have shown you. They are all developing their writing skills and are working hard on doing this independently. A great week Oak; well done.
Oak class exhibition - Autumn Term 2020
Have a watch of our exhibition video below to see all the learning we have been doing this term.
w/c 5.10.20
At Micheldever we learn how to become amazing writers using 'Talk for Writing.' Here are some of our children reading our version of the Gruffalo.
We have also been making our own Gruffalo puppets.
w.c. 14.10.20 - We have begun! Oak class have started and already begun to learn.
Letter from Class Teacher - a warm welcome from Mr Johnston, Mrs Jackson and Mrs Bushell.
Click below to see what we will be learning this autumn term as we go 'Into the woods'.
Autumn Term Curriculum Newsletter
NEW

Home Learning Pack 9 (13th - 22nd July)

Below, you will find the Year R and 1 Home Learning Packs for the remainder of the term.

Year R Year 1 - Part 1 Year 1 - Part 2
Home Learning Pack 8 (week beginning 6th July)
Below, you will find the Year R and 1 Home Learning Pack for this coming week.
Home Learning Pack 7 (week beginning 29th June)
Below, you will find the Year R and 1 Home Learning Pack for this coming week. In this week's pack, there are a number of video links from websites, including YouTube. Please ensure that your child's internet use is supervised; thank you.
Home Learning Pack 6 (week beginning 22nd June)
Below, you will find the Year R and 1 Home Learning Pack for this coming week.
Home Learning Pack 5 (week beginning 15th June)
Below, you will find the Year R and 1 Home Learning Pack for this coming week.
Home Learning Pack 4 (week beginning 8th June)
Below, you will find the Year R and 1 Home Learning Pack for this coming week.
Home Learning Project 3
Below, you will find Home Learning Project 3 and supporting resources.
Home Learning Pack 2
Below, you will find the second Home Learning Pack for your child.
Home Learning Packs
Below, you will find the Home Learning Pack for your child's year group. A further pack of work will be posted to the website on Sunday 29th March.
Summer Term Curriculum Letter